7th MC / WG Meeting and Workshop (September 8-9, 2016)
Useful Information
Currency
The Danish currency is Danish Kroner (DKK) and 1 EUR is approximately 7.50 DKK.
Power supply in Denmark
The electric power supply in Denmark is 230V. Electric plugs have two round pins as shown in the picture below.
Electrical outlets in Denmark use a two-prong plug typical for continental Europe. As Denmark strays from the Scandinavian norm, make sure the adapter you buy is suitable especially for Denmark (some outlets are deeper than European standard.). Look for plug types C, F, or K, they have the correct size of two round prongs. Pls. see photo below.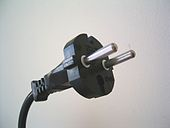 Weather and Climate
Many jokes are told about the Danish weather. One of them is about a foreign visitor who writes home that there are two seasons in Denmark, a green one and a grey one. The green one is the worst, he writes, because then the Danes turn off the heat!
The truth is, however, that the Danish weather is neither worse nor better than in any other Northern European country. Spring comes in April, and June, July and August are usually the warmest months with an average temperature of 22 °C. There are quite a lot of beautiful sunny days during the summer, and often, the temperature is above 22°C.